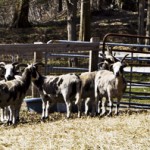 Jenny Jump Farm is located in rural Northwest New Jersey. The farm was established in 1991 and is dedicated to preserving Jacob Sheep breed. The name Jenny Jump comes from Jenny Jump State Forest located on the mountain behind our farm. We raise purebred Jacob Sheep for their unique wool, their intelligence and hardy nature.
Handspinners love their fleeces. Great care is taken to raise healthy fleeces through good diet and use of sheep coats to keep the keep the fleeces clean and free of vegetation. The flock is raised with minimal use of chemicals and antibiotics. My flock is certified as scrapie free by the USDA Voluntary Scarpie program in 2004. Our flock is registered by the Jacob Sheep Conservancy (Jacobsheepconservancy.org) and the Jacob Sheep Breeders Association (JSBA.org).
We offer fleeces, roving and yarn in three different colors, white, gray and black. Most popular is our tricolor roving 8 ounce pack. Pelts and freezer lamb are also available.
We are proud of all our products but the most unique is the SPARKY BEARS? line. In 1995 I started making teddy bears from my Jacob sheep's wool.. The bears are crocheted then fulled. Their cute little faces are added by needle felting. Each SPARKY Bear receives its own ceramic button. They are as individual as the sheep they come from and are made from 100 % Jacob wool inside and out. They are a joy to make and a joy to hold.
Also located on our farm is the Thompson Pottery, a ceramic studio where Bob creates his salt glazed pottery. His specialties include large vases, stone candles and tea bowls.